Tower of London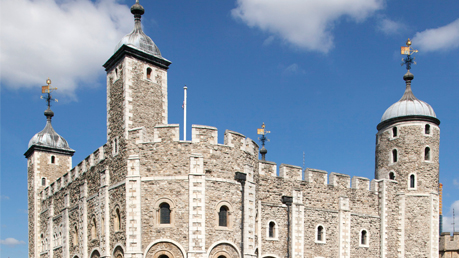 Price is subject to change:
Until 28th February 2018: £28
1st March – 31st October 2018: £29.50 (includes £2.70 donation)

Ancient stones reverberate with dark secrets, priceless jewels glint in fortified vaults and pampered ravens strut the grounds. The Tower of London is a 1,000-year-old castle that protects the Crown Jewels. It was a royal palace, a fortress and an infamous prison, and today it's one of Britain's most visited historic sites.

Despite a grim reputation as a place of torture and death, there are many more stories to be told about the Tower which even housed a menagerie! An intriguing cast of characters have played their part, including the dastardly jewel-thief Colonel Blood, tragic Lady Jane Grey and maverick zoo keeper Alfred Cops.

Join in as the Tower comes alive with re-enactments from its evocative past, and see if you can spot our famous winged inhabitants, the ravens. Legend has it that Charles II believed that if the ravens were ever to leave the Tower, the fortress and the kingdom would fall.
Admission: £28.00
Opening times:
OFFER TIMES:
Offer valid every day except for 26 March 2018 - 9 April 2018

Opening times

November 2017 - 28 February 2018

Tuesday - Saturday 9.00-16.30
Sunday-Monday 10.00-16.30
Last admission 16.00

1 March 2018 - 31 October 2018

Tuesday - Saturday 9.00-17.30
Sunday - Monday 10.00-17.30
Last admission: 17.00

Closed 24-26 December and 1 January. 

Opening times may vary. Please check website for details.

Phone number: 0844 482 7777
Download Voucher
Disabled Access
Download Voucher