The Coca-Cola London Eye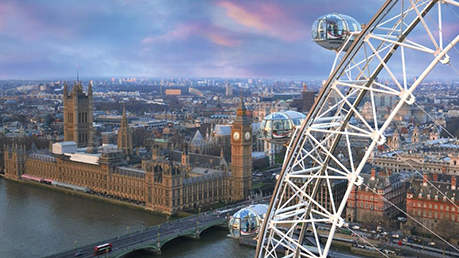 2FOR1 Admission: £30  (Price subject to change)*

**Exclusions: 20,21, 27 & 28 July, 3, 4, 10 & 11 August and 25 - 31 December 2019**

Online advanced bookings now available!

Every year the London Eye plays host to millions of best friends, family days out, couples on holiday, marriage proposals, school trips, first dates, reunions and parties.

London is the best city in the world and its skyline is the most iconic. But it's more than just the view. It's about you, being together. It's about unforgettable memories. Soar up to 135 metres into the sky to see breathtaking views of Big Ben, Buckingham Palace and more, then place yourself in the skyline.

This year sees the launch of #eyelovelondon where you can share your experiences on the London Eye so it can be shared with the rest of London. Share your moment and share your love of London.

Your London Eye ticket includes:
Entry to our London Eye 4D cinema experience
London Eye Guide now available for FREE download on iOS and Android
Admission: £30.00
Opening times:
OFFER TIMES:

Daily from 10.00

Exclusions: 19 - 21 April, 20,21, 27 & 28 July, 3, 4, 10 & 11 August and 25 - 31 December 2019

Opening times may vary. Please check website for details.
Download Voucher
Disabled Access
Download Voucher